Aerospace & Defense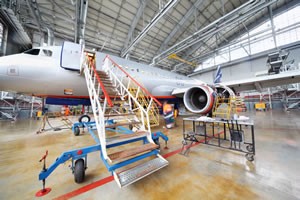 Aerospace and defense designers and engineers rely on PartWorks to 3D scan parts and custom tooling, then reverse engineer them into 3D models for reproduction or redesign using their favorite3D CAD tool, like CATIA and SOLIDWORKS.
From wind tunnel models to fixtures to production parts, PartWorks is your single source for 3D scanning & reverse engineering, 3D CAD design, prototyping and manufacturing of metal and plastic parts.
Our extensive network of U.S. and global manufacturing partners has expertise in 3D Printing, CNC machining, plastic injection molding and metal stamping and fabrication. And we understand your need to meet development deadlines while controlling costs.
Project Examples
For example, we can use a FARO® Edge ScanArm coordinate measuring machine (CMM) to precisely scan jigs, fixtures, check gauges and even machine replacement parts into a 3D point cloud that can be reverse engineered into a 3D model in virtually any leading commercial or open format. From there, you (or we) have the option to reproduce or reengineer the part using your favorite 3DCAD software. For precision prototyping that includes rigid, rubberlike and clear materials, our aerospace and defense customers often leverage 3D printing technology. Or you may choose to produce the tools or parts using more traditional methods like CNC milling or machining.
Do you repair aircraft engines or other high value parts using plasma spray or other thermal coating processes? Learn how PartWorks can use laser scanning and 3d printing to dramatically improve your masking process to improve throughput, reduce labor costs, and minimize part destruction.
We're ready to be your "go-to" provider for scanning, reproduction, redesign, concept modeling, prototyping, and production of metal and plastic tools and parts. Contact us today to discuss your needs or request a quote.