Automotive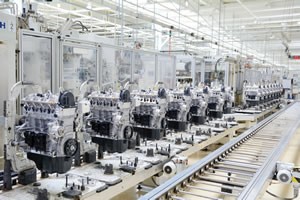 The automotive industry demands precision prototyping of rugged tools and parts, and PartWorks delivers. We help engineers and designers quickly and economically build durable concept models, prototypes, tooling and low-volume production parts — so they can work more iteratively, test more thoroughly and move confidently into production.
PartWorks is your single source for 3D scanning, 3D CAD design, reverse engineering, prototyping and manufacturing of metal and plastic parts. Our extensive network of U.S. and global manufacturing partners has expertise in 3D Printing, CNC machining, plastic injection molding and metal stamping and fabrication. Better yet, we understand the need for speed – getting to market quickly – while controlling costs.
Project Examples
For example, we can use FARO® Edge ScanArm portable coordinate measuring machine (CMM) to precisely scan jigs, fixtures, check gauges and even machine replacement parts into a 3D point-cloud that can be reverse engineered into a 3D model in virtually any leading commercial or open format. From there, you (or we) have the option to reproduce or reengineer the part using your favorite 3D CAD software that can be 3D printed. Or you may choose to produce the tools or parts using more traditional methods like CNC milling or machining. From 3D printed car dashboards to truck fenders and metal fittings, PartWorks can help. Our unique combination of custom part design and sourcing services lets you reliably reduce time-to-market with lower cost and higher quality.
Let us put you in the fast lane for the design and sourcing of your custom tools and parts. Contact us today to discuss your needs or request a quote.