Movie Production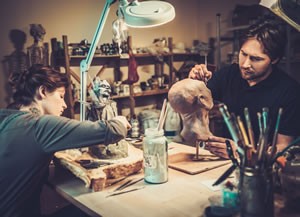 PartWorks helps movie production and other entertainment companies bring their ideas to life. As your industrial concierge for 3D scanning& reverse engineering, 3D CAD design, 3D Printing, reproduction, prototyping and manufacturing of metal and plastic parts, we help meet tight deadlines while controlling costs.
In a business where a prop is custom and can be quite extraordinary, PartWorks offers quick, reliable response and premium service. We specialize in low volume, highly engineered projects. That's why special effects studios, filmmakers, Broadway shows and production and prop houses use our services for some of their most demanding projects.
We tap into our extensive network, supported by our sourcing platform, to make it ourselves or find you the right manufacturing partner. Our partners have manufacturing expertise in metal stamping and fabrication, CNC machining, 3D Printing and plastic injection molding.
Project Examples
Our most recent project for a cable channel production features tight shots of a reproduced historic item that was 3D scanned in partnership with a 3D printing company. We completed the project in a very rapid turnaround time of 4 days, including going on-location to the library where the historical item was on display. The final product was so realistic, the actors didn't realize it was a reproduction. We're still under embargo, so please contact us, and we'll be happy to share the details privately. Let us help you meet your incredibly tight deadlines while managing your costs for the design and sourcing of your props and custom tooling and parts. Contact us today to discuss your needs or request a quote.