3D Printing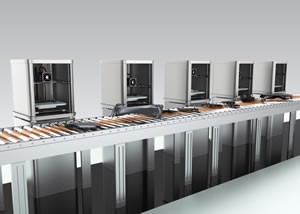 With 3D Printing, PartWorks provides quick turnaround on high quality plastic and metal parts for commercial and industrial applications.
Our 3D Printing service produces custom prototypes and functional, end-use parts as quickly as nextday or on a schedule that balances budget with urgency. We offer three advanced processes — stereolithography (SL), selective laser sintering (SLS) and direct metal laser sintering (DMLS) — that can build both plastic and metal parts. Whether small parts with precise geometries or large, highly detailed patterns are needed, our 3D Printing service provides designers and engineers another quick-turn option during product development.
Benefits of 3D Printing
Get your parts as fast as one day
No tax for design complexity
No tooling to buy
Facilitates rapid iteration, shorter product lifecycles
Produce parts on demand, eliminate inventory
Customize each part
 Materials
We work with a wide range of additive manufacturing materials, including clear, rubberlike and biocompatible photopolymers, and tough high-performance thermoplastics. This variety helps you maximize the benefits of 3D Printing. FDM technology works with production-grade thermoplastics to build tough, durable parts that are accurate, repeatable and stable over time. You can 3D print prototypes or production parts in familiar materials like ABS, PC, ABS/PC blends and high-performance ULTEM 1010 and ULTEM 9085. Or for fine detail along with product realism, Polyjet photopolymers may be considered.
Learn more about leveraging advanced technology like 3D Printing to save time and money. Contact us today to discuss your needs or request a quote.