Injection Molding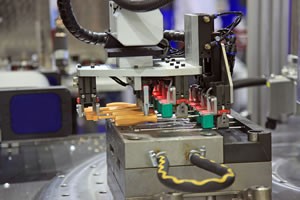 PartWorks injection molding service offers custom prototypes and low-volume part production from engineering-grade thermoplastic, metal and liquid silicone rubber (LSR) materials to meet your schedule and budget. It's often used for quick-turn manufacturing from a prototype up to 10,000 or more plastic parts and as bridge tooling before moving to large-scale manufacturing. We can make either single cavity or multiple cavity molds using aluminum or steel depending on volume, lead-time and other factors.
Our injection molding services encompass:
Plastic Injection Molding
Our quick-turn thermoplastic injection molding is often used for prototyping, bridge tooling and short-run manufacturing.
Metal Injection Molding
MIM is a tried and true metalworking process for molding relatively small metal parts.
Liquid Silicone Rubber Molding
LSR parts are strong and elastic with excellent thermal, chemical and electrical resistance. This thermoset process mixes a two-component compound together, which is then heat cured in the mold with a platinum catalyst to produce a final part.
Magnesium Injection Molding
Also as known as thixomolding, magnesium injection molding is an established manufacturing process that produces strong, lightweight magnesium parts that maintain detailed features and thin walls.
We can accommodate a wide variety of materials including thermoplastic, metal and liquid silicone rubber (LSR). Along with plastic, we can mold small or large quantities of steel, stainless steel, magnesium and LSR parts.
From plastic to metals, to LSR, let PartWorks handle the design and sourcing of your injection molded parts.  Contact us today to discuss your needs or request a quote.